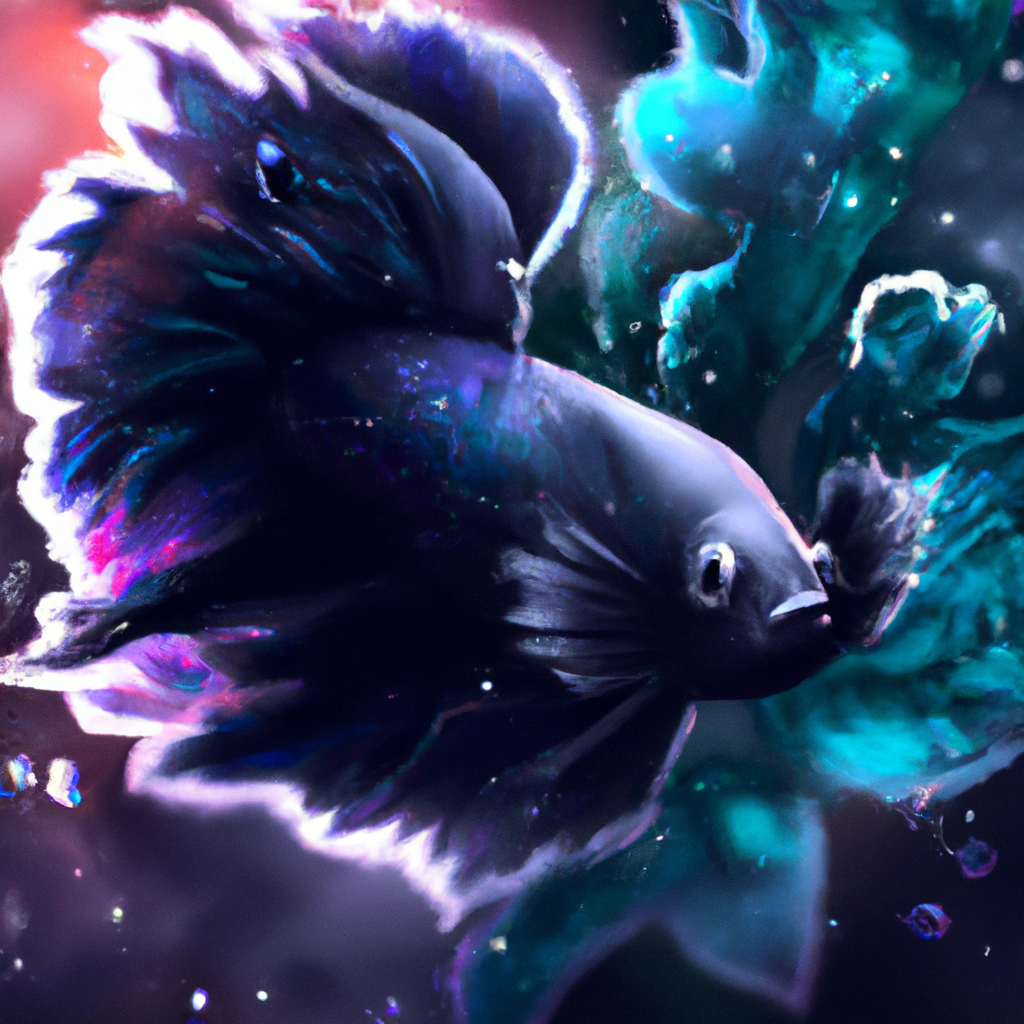 Overview of the Black Orchid Betta
Behold the Black Orchid Betta Fish – a captivating and alluring creature! Its beauty and mystery draw in many. Let's look at what makes it unique.
This species is called Siamese fighting fish (Betta splendens). Its dark blue to black hue has shimmering metallic scales. And its long, flowing fins and tail have distinct edges.
Plus, these fish are aggressive and prefer to live alone. What's more, they build bubble nests on the water's surface instead of laying eggs on substrate – an intriguing behavior for hobbyists and researchers.
For a perfect environment for your Black Orchid Betta, keep the temperature between 75-80°F and add low lighting. This will enhance their natural coloring and keep them content.
Gaze upon the Black Orchid Betta's dark and mysterious charm – you won't be able to resist!
Characteristics of the Black Orchid Betta
To understand the distinguishing traits of Black Orchid Betta, we bring to you the characteristics of this species with its distinct physical features, color variations, size, and lifespan. These sub-sections detail the various aspects of this stunning species, providing useful insights into their appearance, behavior, and life expectancy.
Distinct physical features
The Black Orchid Betta is special! It has a rich, deep black colouring on its fins that makes it look exotic and elegant. Its body is slim and stream-lined, so it can move through water easily. The scales on its body are shiny and shine in light, making it look mesmerising. Its eyes are large and round – adding to the effect of its deep black colour. It has a bigger dorsal fin than other Bettas – it can spread it out to show its dominant nature. It adapts quickly to different water conditions and is usually quite calm.
To take care of it, make sure the water quality is consistent by changing the water regularly. Give it a comfortable home with lots of hiding spaces. The Black Orchid Betta is proof that even in death, there can be beauty – in black, purple or blue!
Color variations
The Black Orchid Betta is an amazing fish! It has many colors, from deep blacks to blues and purples. That's why it's so popular among aquarists.
Common colors include black orchid, blue orchid, mustard gas, copper, turquoise, and metallic gold. This fish can even change its colors depending on its mood and the environment.
The fins of the Black Orchid Betta are also fascinating. They vary in size and shape, and have patterns with contrasting colors. This makes it look even more gorgeous!
The name of these fish comes from its resemblance to black orchids. People sometimes mistake them for flowers!
Finally, Black Orchid Bettas may be small but they have huge personalities. Plus, they can live longer than other breeds.
Size and lifespan
The Black Orchid Betta is a captivating creature with special qualities. On average, they are 2-3 inches in size and can live up to 5 years in ideal conditions. Although small, their beauty is grand, with stunning colors and patterns.
Proper care is crucial in increasing their lifespan. This includes keeping them in clean water at the right temperature, feeding them healthy food, and creating an appropriate habitat. They are territorial, so they should either be kept in isolation or with compatible fish in a larger tank.
These bettas have more to offer than just looks. They're intelligent and active, loving stimulating environments with places to hide and explore.
Pro Tip: To ensure the Black Orchid Betta's optimal health and long life span, maintain high water quality. Perform weekly water changes of 25%, which will reduce toxin buildup in the tank. Black Orchid Bettas may be small, but their ambitions are beyond the stars!
Habitat and Distribution of the Black Orchid Betta
To understand the habitat and distribution of the beautiful and enigmatic Black Orchid Betta, let's focus on three key aspects. First, we'll explore their natural habitat, which influences their physical and behavioral characteristics. Second, we'll examine their geographical distribution, which sheds light on their global presence and diversity. Finally, we'll touch upon the threats to their survival, which can impact their population in the wild.
Natural habitat
The Black Orchid Betta is a freshwater fish, found in Thailand, Vietnam and Cambodia. They prefer slow-moving waters with dense vegetation and muddy substrates. Temperature should be between 76°F-82°F (24°C-28°C) with a pH range of 6.5 to 7.5. Plants like water lettuce and java moss provide shelter and food sources.
In the wild, they are surrounded by consistent rainfall and nutrient-rich waters. Insect larvae and small shrimps make up their diet. To replicate their natural habitat at home, make sure the tank is filled with plenty of plants. Move over Carmen Sandiego! Black Orchid Betta is the world traveler.
Geographical distribution
The Black Orchid Betta is native to Southeast Asia – Thailand, Indonesia, and Malaysia. It prefers slow-moving rivers, rice paddies, and shallow streams with dense vegetation. The water should also be slightly acidic and warm.
It is unique due to its ability to survive in low-oxygen conditions using its accessory breathing organ, the labyrinth organ. This organ allows it to take air directly from the water surface.
A study by Sahoo et al. (2015) revealed that long-term exposure to copper sulfate causes significant changes in behavior and physiology.
Knowing more about the Betta's habitat, range, and characteristics is important for proper pet care and conservation. Plus, its picky eating habits may be its biggest enemy!
Threats to their survival
The Black Orchid Betta has many challenges to its survival. Things like habitat destruction, pollution, and overfishing can affect them. Conservation efforts are essential for their safety. This includes regulating fishing practices and reducing pollution. Captive breeding programs can also help keep the species alive. Research is key to finding new strategies to protect them.
Pro Tip: Keep your Black Orchid Betta in a well-maintained aquarium with enough hiding spots and water filtration. It's like taking care of a diva – high maintenance, but it's worth it!
Caring for Black Orchid Bettas
To care for your Black Orchid Betta, you'll need to know the ideal tank setup, diet, water conditions, and breeding habits. In this section, we'll cover everything you need to know to keep your fish healthy and happy. We will discuss the various sub-sections, including ideal tank setup, diet and feeding habits, water conditions and maintenance, and breeding and reproduction, as a solution to ensuring proper care.
Ideal tank setup
For Black Orchid Bettas, an optimum habitat is essential. It should replicate their natural environment – shallow rainforest or rice paddy waters. The tank for them should be at least 5 gallons and tall (10 in) to provide ample swimming space and hiding spots. The water should be soft (pH 6.5-7), warm (75-80 F) and with low-flow filtration.
The substrate should mimic their natural environment, such as black gravel or sand, and live plants will add beauty and provide shelter. Decorations can add further interest, but must complement the fish's colour.
Studies reveal that during mating periods, males become more aggressive and protective – an adaptation for survival. Feed your betta a balanced diet – otherwise they may become hangry!
Diet and feeding habits
Sustaining Your Black Orchid Betta's Nutrition
Give your Black Orchid Betta the correct diet for them to thrive. Feed them according to their dietary needs.
| Their meal should consist of | Feed them twice daily, with limited portions |
| --- | --- |
| Protein-rich foods like brine shrimp, bloodworms, and daphnia. Also include vegetables like spinach, squash, and spirulina flakes. | |
Offer them high-quality pellets that meet their nutritional requirements. Leave them unfed for one day a week – this will kickstart their digestive process and stop overfeeding.
Call-to-action: Don't miss out on nourishing your Black Orchid Betta! Follow our guidelines and watch them become healthy and vigorous. Keep the water conditions optimal to ensure their wellbeing – it's like a chemistry experiment!
Water conditions and maintenance
Maintaining Water Quality for Black Orchid Betta Fish:
Temperature should be 76-82°F with a pH of 7 to 8. Consistency is key.
Change 10-20% of the water every 1-2 weeks. Don't replace all water at once; it disrupts the nitrogen cycle.
Add aquarium salt per gallon. Don't overuse salt.
Install a filter to remove debris and monitor ammonia, nitrate & nitrite levels.
Don't overcrowd the tank. It causes stress and worsens water quality.
Test water quality with strips or kits. Keep a record of results.
Beware of chlorine, metal residues and toxins from cleaning agents.
Always use a dechlorinator before new water.
For betta health and beauty, offer high-quality food.
Also, use suitable lighting that mimics its natural environment.
Breeding black orchid bettas? Not for the faint of fin!
Breeding and reproduction
Black Orchid Bettas have special reproductive behaviors that need to be understood if you want to mate them. The breeding season lasts 2-3 months. It's better to use a separate breeding tank instead of spawning in the main aquarium.
Here's a table of the breeding process:
| Stage | Description |
| --- | --- |
| Preparation | Pair selection, feeding change, water temp adjustment |
| Bubble Nest | Male builds nest with bubbles from his mouth and saliva |
| Courtship | Flaring gills and fins |
| Spawning | Mating pair embrace and release sperm & eggs |
| Egg Care | Male manages eggs through nest and fanning |
Don't disturb the eggs while they're incubating. Also, keep them away from parents after hatching.
You can make sure the environment is right for successful reproduction. Water temp should be 80-82°F. Keep good water quality and check pH balance often.
Lastly, pick individuals with strong colors, no disease symptoms. By taking these steps, we can help keep their species alive.
The only mystery is how black orchid bettas look even more luxurious than other fancy types.
The Mystery Surrounding Black Orchid Bettas
To delve deeper into the mystery surrounding Black Orchid Bettas, let's take a look at some fascinating sub-sections. Little is known about their origins, but there are speculations about the breeding and origin of these exotic species. Moreover, Black Orchid Bettas are regarded as rare and precious fishing species that continue to intrigue enthusiasts worldwide.
Little known about their origins
The black orchid bettas' origins are a total mystery, adding a thrilling air of intrigue to these unique fish. They have an intense black color and finnage like a butterfly's wings. This mysteriousness has made them popular among hobbyists.
To thrive, they need special environmental conditions. Once set up, they can live for up to 5 years. Where did they come from? How were they bred? Some say they may be a result of inbreeding-caused mutations, but there's no proof.
Pro Tip: If you're thinking of getting these beauties, make sure you research and consult experts on their special needs. Perhaps they were bred in the shadows by a secret society of fish fanatics!
Speculations on their origin and breeding
The enigma of the Black Orchid Bettas has captivated breeders and aquarium enthusiasts. Its unique coloration and mysterious origin have made it a sought-after species.
Experts speculate that these bettas originated in Indonesia or Thailand, and may have been selectively bred from other betta strains.
Surprisingly, crossbreeding Black Orchid Bettas yields unpredictable genetic patterns. It is theorized that this could be due to recessive genes or environmental stimuli. This makes them interesting for further study.
It is possible that new breeding techniques could unlock more secrets about these mysterious fish. Breeding with other strains or feeding regimes could result in new mutations and colorations. However, it would require careful attention to maintain their pure beauty.
Black Orchid Bettas are so rare and exotic, they make the Kardashians look like common goldfish!
Black Orchid Bettas as a rare and exotic species
Behold the majesty of Black Orchid Bettas–a rare and exotic species of fish from Southeast Asia, belonging to the Betta genus. They are captivating with their unique black color and iridescent fins. To keep them healthy, a tropical temperature between 76-82°F is a must, as well as a five-gallon aquarium with heaters, plants, and hiding spots. Weekly water changes of at least 25% should also be conducted.
Male and female Black Orchid Bettas have distinct appearances, but both possess the coveted black fins. This is why they are so popular among fish enthusiasts! To really show off their beauty, optimal lighting conditions should be provided. This will add a touch of flair to your aquarium!
Frequently Asked Questions
1. What is a Black Orchid Betta?
A Black Orchid Betta is a stunning and mysterious species of fish that has a blackish-blue body with iridescent blue and green fins resembling the extravagant orchid flower.
2. How do I care for a Black Orchid Betta?
Black Orchid Bettas require a well-maintained aquarium with a minimum capacity of 5 gallons. They should be kept in warm water (between 78-82°F) with a pH level of 6.5 to 7.5. It is essential to provide them with a balanced diet of high-quality fish food.
3. Can I keep a Black Orchid Betta with other fish?
Black Orchid Bettas are best kept singly as they can be aggressive towards other fish, especially males of the same species. However, they can be kept with peaceful species such as ghost shrimp or snails.
4. What is the lifespan of a Black Orchid Betta?
The average lifespan of a Black Orchid Betta is around 3 years, but they can live up to 5 years, given a healthy environment and a balanced diet.
5. How do I breed Black Orchid Bettas?
Breeding Black Orchid Bettas require a separate breeding tank, where the water should be soft, slightly acidic, and maintain a temperature of 80-82°F. The male Betta should be allowed to build a bubble nest, and the female should be introduced after conditioning them with good quality food for a few weeks.
6. Where can I buy a Black Orchid Betta?
Black Orchid Bettas are widely available in pet stores, local fish shops, and online stores. It is best to purchase from a reputable seller who can provide a healthy fish, free from any disease or deformities.
Hello, I'm Paul, a dedicated fish enthusiast with 15 years of experience. My family finds my hobby peculiar, but they humor me! Besides fish keeping, I enjoy playing the bass guitar and learning about wildlife adaptation.
I find fish captivating; observing their behaviors and routines in an environment so different from ours is enthralling. I started with a small aquarium and guppies, later progressing to African cichlids, which drove me to take fish keeping more seriously. Creating an artificial ecosystem that supports life brings me immense joy.
The goal of 4aquarium.com is to become a one-stop shop for all aquatic needs, cutting through the clutter of irrelevant information. I invite you to visit often, and I welcome any questions or comments via the contact form on fishkeepingcentral.com/contact-us/. Thank you for reading my story!