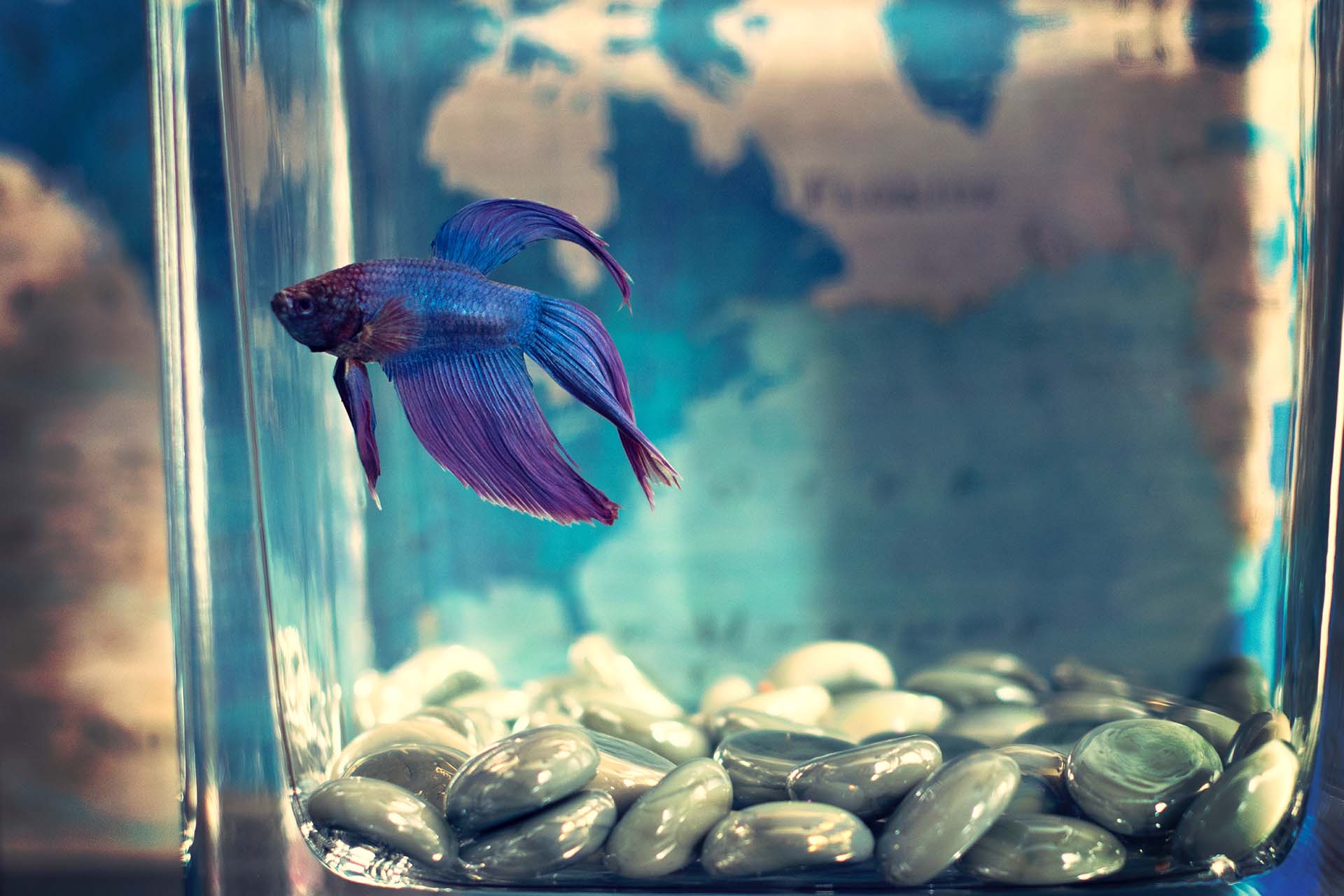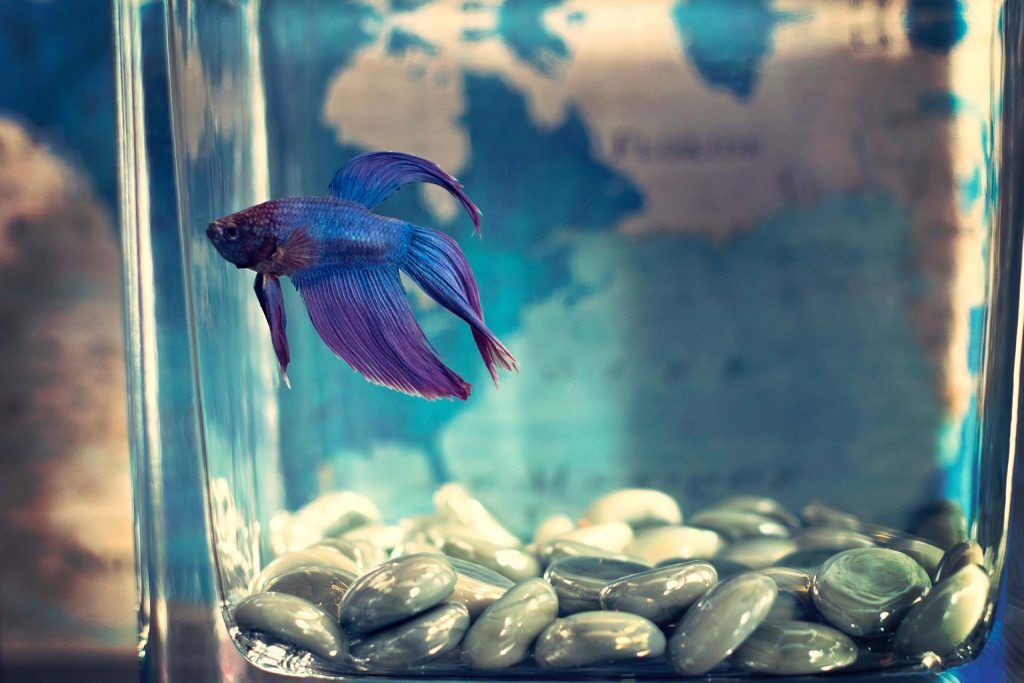 Best Betta Fish Tanks Reviewed Complete List 2023
Are you on a never-ending crusade to land the best betta fish tank? It sounds simple enough, and it shouldn't be that hard to find a perfect aquarium, right? Well, not exactly. Unfortunately, there is very little to no credible information on betta fish tanks today.
That changes today. I've been doing some digging on my own and have created a list of some of the best betta fish tanks in this post.
To kick start it, let us first explore what you need to consider before purchasing the betta fish tank.
Our Pick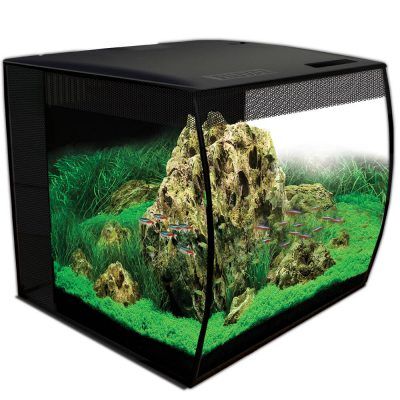 Hagen HG Fluval Flex Aquarium 15 Gallon
7500K LED lamp supports plant growth and enhances fish colors
Powerful 3-stage filtration for superior water quality
Multi-directional dual outputs for customized water flow
Best 5 Gallon Tank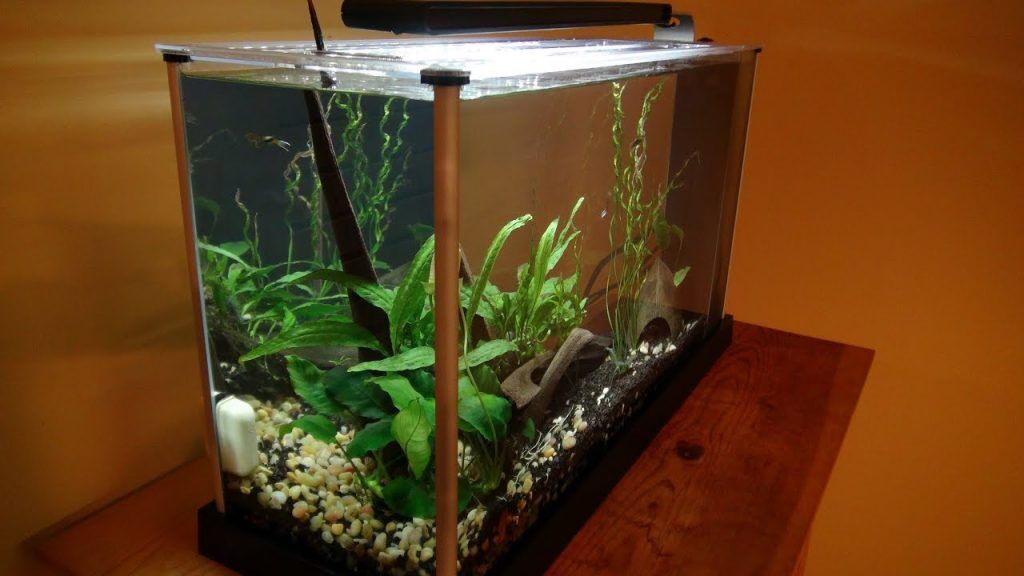 Fluval Spec V Aquarium Kit - 5 Gallon
5 gallon Nano aquarium
Etched glass tank with aluminum trim
Includes foam block, activated carbon and BioMax bio rings
Best Price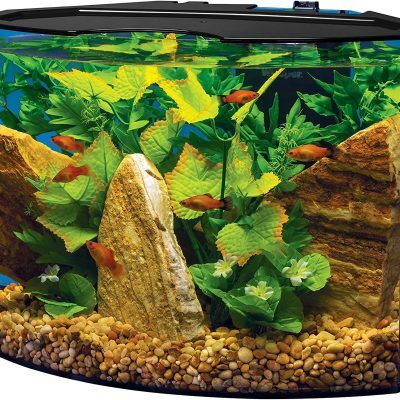 Tetra Crescent Acrylic Aquarium Kit 5 - Gallons
Includes Tetra Whisper Internal Power Filter
Bright-white energy-efficient LED lights
Offers unobstructed viewing of your underwater environment
The things you have to know when planning to buy a betta fish tank
These beautiful fish with over-top fins deserve to enjoy their lives in nothing but the best tank possible, so picking the best betta fish aquarium is essential. Even though choosing the best fish tank for a betta is not exactly rocket science, some factors can facilitate making the correct purchase decision. Paying attention to these when deciding, will actually help you keep your betta happy.
The proper size of the betta fish tank is critical for a betta fish. It's mostly because these extravagant looking fish are highly territorial. Male betta or a female betta, it doesn't matter. If the aquarium is too small, you can expect to watch Rocky vs. Apollo Creed fights all day long. Betta fish are not known as Siamese fighting fish for no reason.
So ideally, an aquarium of about 5 gallons is the best tank size for betta fish. Of course, depending on the number of your lovely pets, you might even go for a larger aquarium, since these siamese fighting fish "little devils" need a swimming space.
There seems to be a misconception that bettas can survive in poor water conditions. The idea seems to have come from the fact that they are native to the Mekong River, which suffers severe pollution. Another reason is that bettas have a special organ, labyrinth, which allows them to breathe on the surface.
However, a betta fish needs a good quality of water, like other tropical fish. Getting good water filters will take care of this issue. If the water conditions are poor, betta will likely start developing rotting in their fins. Moreover, they will not live out their lifespan, which is about five years.
In addition to water quality, the right temperature is also critical. Even though bettas are tolerant, they prefer a water temperature between 75–82 °F or 24–28 °C. On both extremes, betta can temporarily survive up to 56 °F and 95 °F, but these harsh conditions should not be regular as it can shock their system.
If you live in freezing climates, an aquarium heater should be a part of the setup if you want to keep your bettas thriving.
When creating a perfect habitat for your betta fish, proper lighting is another thing to consider. Ideally, such habitat would consist of an acrylic or glass aquarium, in pair with LED lights with setup for both day and night. It should be sufficiently bright, coupled with both daylight and moonlighting features that compliments the fighting fish.
Best tanks for betta fish reviewed
Now that we covered the basics, we can dive deeper into finding the best betta fish tank that will be a perfect fit for your favorite pets.
Fluval Edge Aquarium With LED Light
My first on the list of the best fish tanks for bettas is this one from Fluval. This aquarium is a total winner when it comes to design and aesthetics. It is a cube-shaped aquarium so you can view the betta fish from all the sides. This cube design aquarium offers you a 360 degree view and a 3D fish experience even better than a curved glass tank.
A fantastic feature of this aquarium is the floating base design. It creates the illusion of the tank being suspended in the air. Besides, this design component is what is responsible for the tank's small footprint. Even if you are very limited with space, this fish tank will easily fit into a relatively small space without any problem.
This outstanding Fluval Edge fish tank comes in two sizes – a six-gallon and a 12 gallon. The tanks are just the perfect size for raising a betta in your home. Both sizes come with the same features except for a couple of differences. These are:
Setting up this fish tank for betta fish is a breeze even if you don't have any experience. However, the hole in this aquarium is on the smaller side. So you might find it tricky while cleaning it.
Another feature that I love about these betta fish tanks is the power filter. Most betta tanks have filtration systems that are clunky and do not look streamlined. With the Fluval Edge, it's a complete opposite. It sits cleverly hidden out of the view, so one might be confused there's no filter at all.
In addition to the smart design, it has 3 stage filtration – chemical, biological, and mechanical. So you can be sure that the water quality in this tank remains good all the time. This is the ideal tank setting that will keep your betta happy and healthy.
You will also love the lighting system in this fish tank betta. It is a fully retractable LED light capable of both daylighting and moonlighting, which is perfect for a betta tank. This is possible due to several white and blue LED light bulbs in the kit. You also get to switch between bright daytime and deep blue nighttime options.
Pros
Excellent design and quality.
Available in two sizes.
The LED lighting is versatile.
Comes with a three-stage filtration system.
Cons
The LED lighting is not bright enough for some plants.
Cleaning it is a bit tricky.
If you love an aquarium that offers 360 degree view, you can't go wrong with this one from Fluval. It takes the trophy for fantastic design. However, the combination of size, the outstanding filter, and LED lights also makes this one of the best fish tanks for a betta fish in my book.
Fluval Spec V Aquarium Kit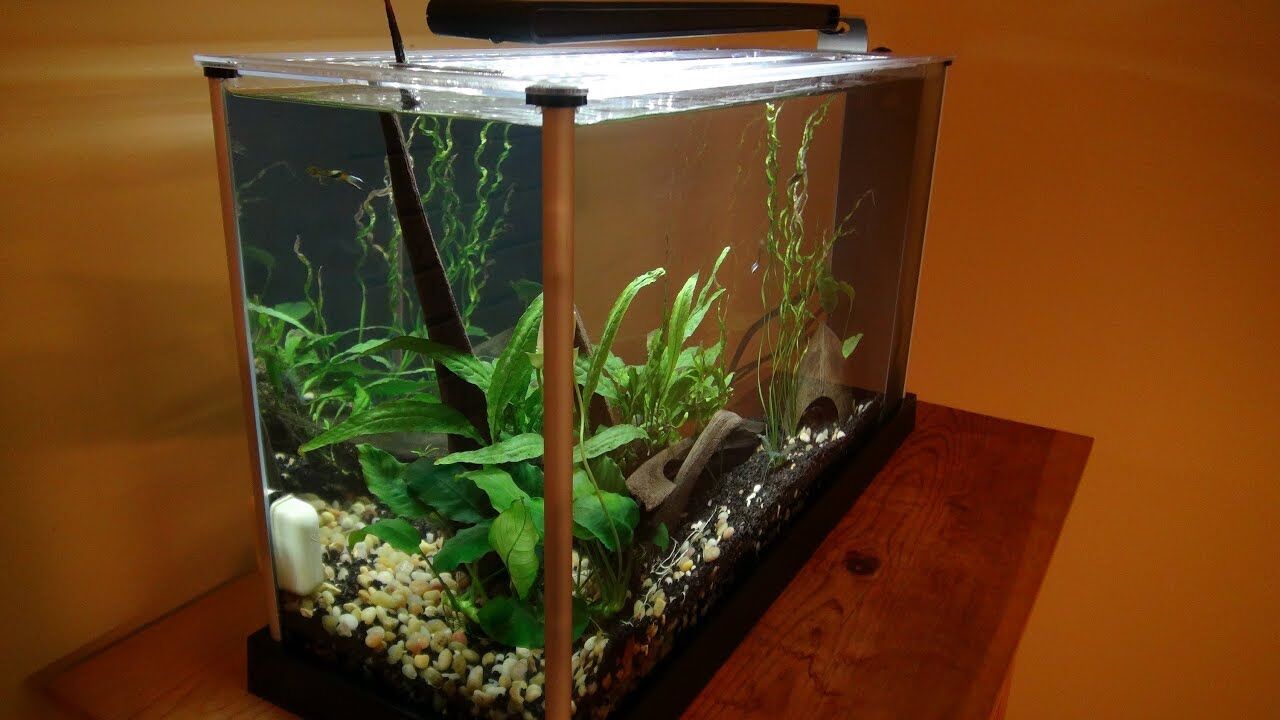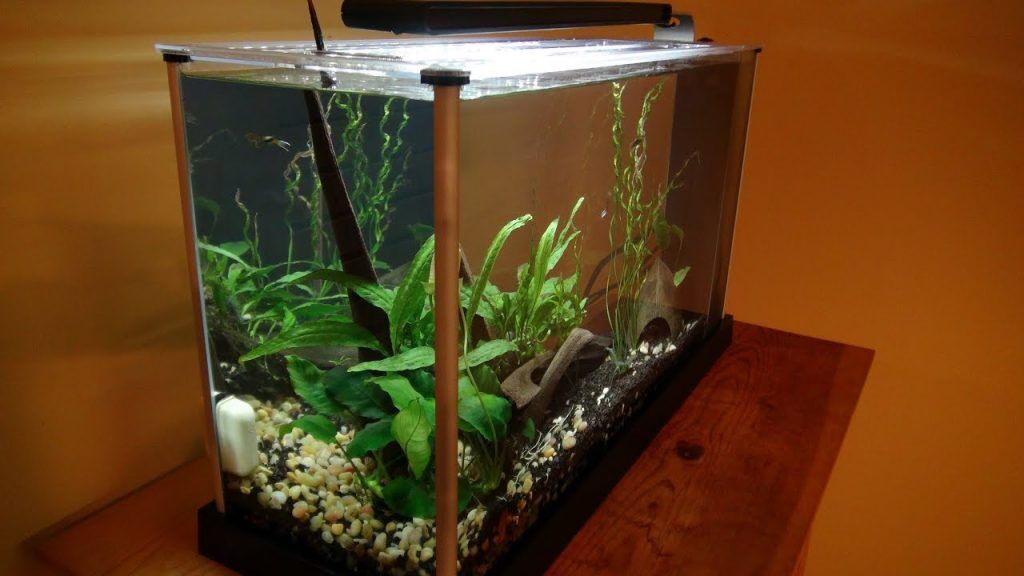 The second betta fish tank also comes from Fluval. The Fluval Spec V tank has a right combination of design and size for a betta fish. It is designed with etched glass with aluminum trim. With a 17.2 x 10.6 x 6.3 inches dimension, this betta tank will fit in countertops and small areas. With a contemporary design, this 5-gallon fish tank is sturdy and durable.
This fish tank kit comes with activated carbon, a foam block, and BioMax bio rings. These are all the essentials you need for setting up the aquarium.
Like other aquariums from the brand, the Fluval Spec V Aquarium Kit also comes with a three-stage power filter. You will appreciate the separate chamber for the filters on one side of the tank. A provision for a stick heater is also available.
There is something about the circulation pump in the Spec V I want to point out. At full capacity, the water current can be a bit too much for the bettas as they are wary of strong currents and water changes. So adjusting the nozzle upwards took care of the problem for me. But despite its efficacy, the pump and filters are quiet.
In comparison to its small size, the lighting in the Fluval Spec V Aquarium Kit is outstanding. It comes with 37 LEDs that will delight your bettas as well as your visual senses. The LED light strip covers the larger part of the tank.
However, there is no option for moonlighting, which is a bit of a bummer. Nevertheless, the 7000 K high-output LED lighting will allow you to have plants that prefer bright lights.
Pros
Excellent quality and design.
Separate chamber for the filter and stick heater.
The tank kit is easy to maintain and set up.
Good LED lights for viewing.
Cons
No options for moonlighting.
The circulation pump needs adjusting.
Despite its minor issue with the pump, the Fluval Spec V is an excellent tank for betta. It is the right size, and the lighting and filter systems create an ideal environment for bettas to thrive.
Marineland ML90609 Portrait Aquarium Kit - 5 Gallons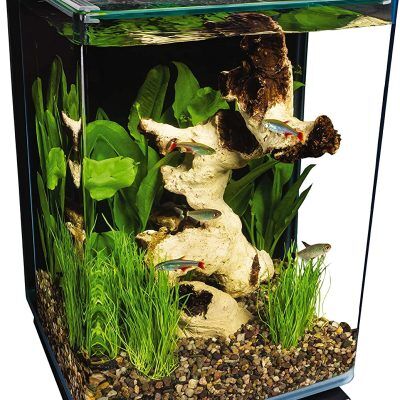 If you are looking for an affordable betta fish tank, this LED aquarium is a great choice. The Marineland Portrait aquarium kit is suitably designed for both beginners and veterans. It features a curved glass that is thick and is 16.8″ tall. This vertical design means you can pretty much station it anywhere in your home or office.
You will also get to add several aquarium plants that your bettas will significantly appreciate. This aquarium kit is a 5-gallon size, which makes it an excellent choice for Siamese fighting fishes.
The filter system in this tank for betta fish is excellent. It is a Bio-Foam filter with three-stage filtration that will keep the water fresh at all times for healthy bettas. Similar to the tanks from Fluval, the filter and pump are out of sight. Therefore, you get to view these beauties without any obstruction. The pump is also adjustable so you can create the perfect environment for bettas.
You will love the LED lighting system in the Marineland Portrait aquarium kit. It is a hinged system, so accessing it is effortless. Another feature, which makes it great for bettas, is the 3-way switch. It allows you to toggle between blue and white lights. You can also use the blue-only options or switch it off entirely during the day. Besides, the lighting system's shimmering effect is a great feature that will display your betta fish in the best way.
Pros
Small footprint with a vertical design.
Easy to set up and maintain.
Good LED lights for betta fishes.
Adjustable setting with water flow and lights.
Cons
Cleaning the filter is difficult due to the narrow back compartment.
The glass cover does not cover the top of the tank completely.
The Marineland Portrait LED aquarium kit has a unique profile that fits any space, even if you don't have much space. It is the right size and has an excellent filter and LED lighting, making it one of the best betta fish tanks without a doubt.
Tetra Crescent Acrylic Aquarium Kit. 5 - Gallons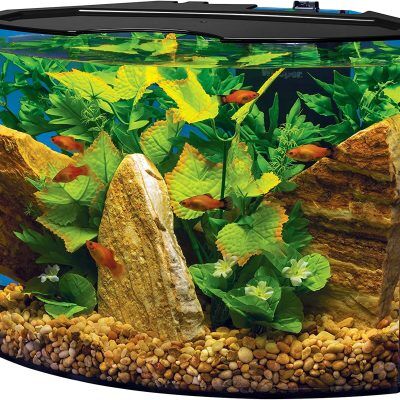 This acrylic aquarium kit is among the best fish tanks for betta. The Tetra Crescent betta aquarium features a crescent shape with a curved front. This 5-gallon tank capacity makes it an excellent choice for tropical fish as well.
In terms of aesthetics, it is minimalistic and straightforward. The black-colored base adds an interesting background to the aquarium. The seamless design allows free viewing so you can watch your playful bettas from all the angles.
This aquarium has a hinged plastic lid. While this is great for feeding your fish, it has a catch. It also has an opening at the top. This means that your bettas can jump out, especially if they are too playful.
As is evident from the name, this aquarium kit is acrylic. Acrylic can be long-lasting and very sturdy. However, it can be prone to scratches much easier than glass. Therefore, you might need to watch out, especially while cleaning the tank.
The best feature of the Tetra Crescent is its filter system. It is a proprietary system called the Tetra Whisper, which is efficient as it is quiet. The 3-stage filter will keep the tank water clean, so the bettas can grow healthy and strong.
Besides, the activated carbon in the kit gets rid of discoloration in the water. If you are concerned about odors, the activated carbon takes care of it.
An interesting feature in this tank kit is the hidden design of LED. It is smartly hidden inside the black cover, so you do not notice it unless it is lit. The white lights are quite bright, so you can plant a variety of aquatic vegetation. However, if you are looking for a moonlighting option, you might want to consider the other kits on our list because this does not have one.
Pros
Curved profile for maximum viewing.
The filter system is efficient and quiet.
The LED light system is bright and smartly designed.
The price is very budget-friendly.
Cons
The lid is made of plastic.
Since it is acrylic, it is prone to scratches.
Acrylic betta fish tanks are not as hard as glass, so this tank is no exception. However, this LED aquarium kit has high-quality filtration and efficient lights that a betta will love. Also, this aquarium has an unbeatable price, so it's a great overall pick.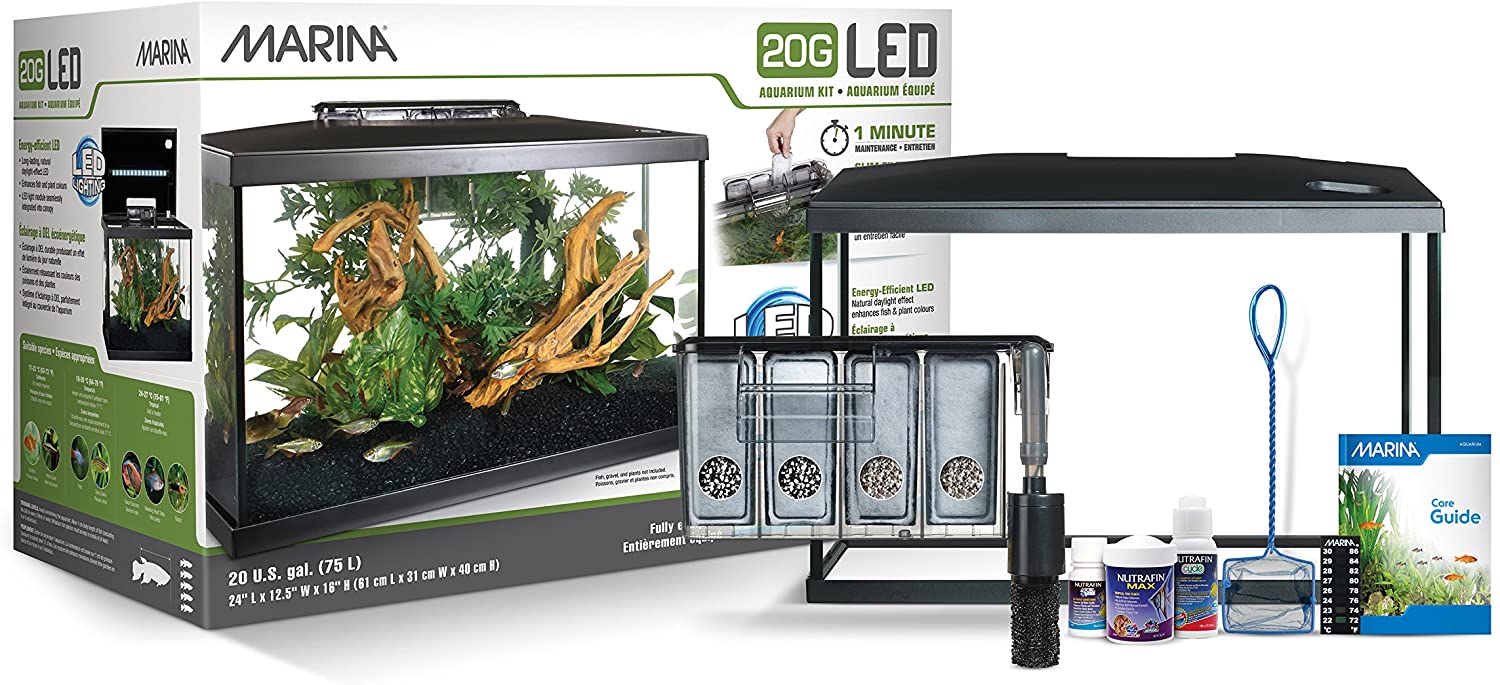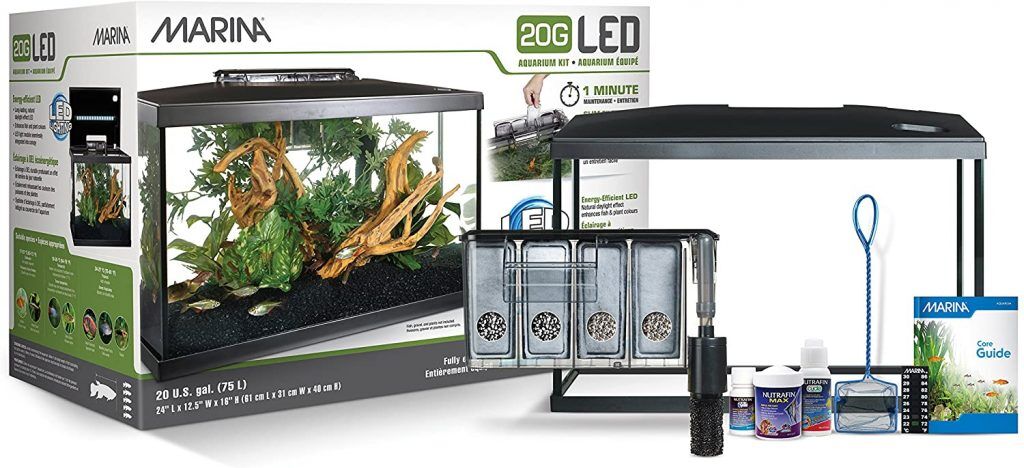 There is nothing fancy about this aquarium kit in terms of design. However, it is an excellent kit for beginners venturing into the world of aquariums and fish keeping.
The Marina LED aquarium kit gives you a lot of options when it comes to sizing, as it includes 5 gallons, 10 gallons, and 20. The 5 gallon is excellent for beginner fish enthusiasts. The tank package contains everything you need to set up a fish tank for bettas. Moreover, the addition of a fish care guide is also an excellent tool.
Among all the best betta fish tanks on my list, this is the easiest to clean in my experience. This is also why beginners will love having this aquarium as it does not require much effort to maintain.
The water filter in this fish tank kit is also a good feature. It has a streamlined profile but it's powerful and efficient. Also, the filter system does not make a lot of noise, which is something I do like a lot. The only downside to this excellent aquarium is the lack of a 3-stage filter.
In addition to the filter, it has two components that facilitate the filter's performance. These are the Cycle Biological supplement and AQUA Plus water conditioner that creates the best aquatic environment for the betta fish.
You will also love the LED lighting in this glass aquarium kit. It has a canopy design that makes the best viewing profile. Moreover, it mimics the bright light of the day that is great for your betta fish and the plants in the tank.
Pros
Excellent starter kit for beginners.
Comes in three tank sizes.
The LED module has a daylight setting.
The filter system is quiet.
Cons
Does not include a 3 stage filtration.
No option for moonlighting.
Carries a premium price tag.
This aquarium kit does not have a three-stage filter process, which is a bummer considering its price. However, it has excellent supplements for keeping the water in top quality, which is essential for the bettas. In addition, it is effortless to set up. Just make sure that you set it up slowly and carefully.
Aqua Culture 10 Gallon Aquarium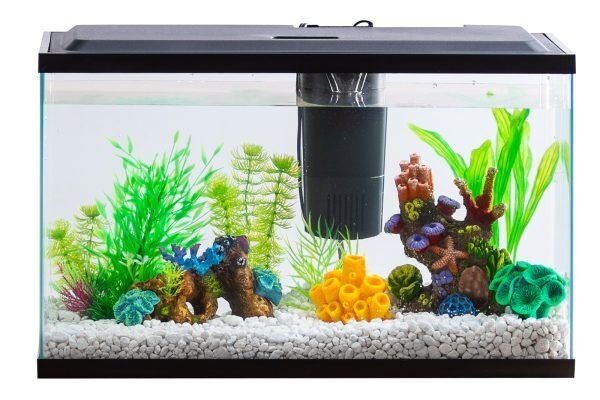 For those betta pet owners that are looking for a great tank, this is a great pick. It is a simple glass tank that also has plastic components in the frame. If you prefer an almost ready-made tank kit, you might find this bare tank limiting.
However, if you love to pick out your aquarium kit, then this is a great choice. You get to pick the filtration system and the LED lights to make it truly personalized for your bettas. This is a lidless aquarium, so you can pick out your choice of the covers as well.
It is a 10-gallon tank, which means that it is the right size for Siamese fighting fish. It also gives you enough room to put in the live plants of your choice.
Although this tank is quite affordable, the overall cost can add up. It is because you have to pick out every piece of equipment to transform it into a livable home for the bettas.
Pros
Good quality glass.
You get to customize it.
Comes in a 10-gallon size.
Very reasonable pricing.
Cons
It does not include any equipment, so it can be limiting.
Aqua Culture 10 Gallon Aquarium is simple yet is made of quality glass. This sturdy quality, combined with its 10-gallon size, makes it an ideal choice for rearing bettas. The best part about an empty tank is that you get to decide your own choice of equipment and create a unique home for bettas.
Hagen HG Fluval Flex Aquarium 15 Gallon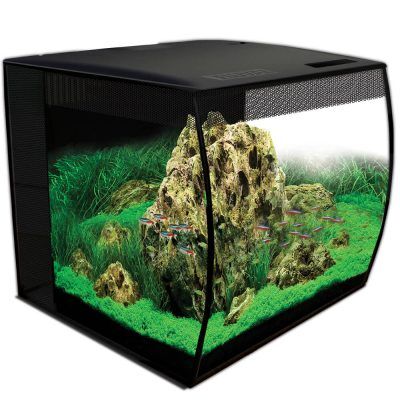 Fluval needs no introduction when it comes to aquariums. Their aquariums are among the most sought after by fish enthusiasts. The Hagen nano tank, in particular, is an excellent looking tank as well.
In terms of design, this tank's front viewing area curves forward. This is a fantastic way to view the betta fish in the tank. The back of it is black, and as it creates a great background, bettas will stand out perfectly against the dark color. It has a feed top cover so you can feed your precious bettas from the top.
This is a 15-gallon aquarium, so you get plenty of room for the betta fish and plants of your choice. Since anything above a 5-gallon tank capacity is excellent for a betta fish, this is a great tank. Despite its size, this betta tank is ergonomically designed to easily fit into a smaller space.
Hagen HG Fluval Flex has an excellent filtration system. The 3-stage filtration is also a part rear. The components in the filter system are nothing short of stellar. It consists of mechanical – foam, chemical – carbon, and biological media – BioMax.
This setup keeps the water clean and clear for the fish at all times. You can also customize the water flow in the tank based on how your fish reacts.
If you and your bettas live in a cold climate and you need to use a heater for the tank, you will find the space for it in the back as well.
The LED lighting module in this tank is exceptional. The Hagen HG Fluval Flex Aquarium takes the trophy for the best lighting in an aquarium. It is a combination of 7500K LED lamps and 2450 lux LEDs, making it perfect for plants and fishes.
If you love customizing the tank's lighting for your bettas, you will love this tank. Moreover, the remote that comes with the package will allow you to customize the tank's environment without getting up from your seat.
Pros
Curved front for better viewing.
Three-stage filtration system.
Feed on top design.
Excellent LED module.
Filter and heater compartment is hidden from view.
Cons
The price is on the higher end.
This aquarium is an excellent combination of stunning design and fantastic quality. Everything from the 15-gallon aquarium size, the three-stage filter system to the stellar lighting system, and has everything you need for a betta fish.
Having gone through this list, you may see there is something here for just about anyone, from affordable tanks, well suited to enthusiasts with modes budget, up to high-end setups, for aficionados with big buck to spend for premium tag. After all, there are variety of ready-made tanks, tank kits, even bare aquarium options providing for a plenty of options for your betta fish.
My choice would certainly be Fluval Edge Aquarium with LED Light. It sports a fantastic design, yet with minimal footprint. It's three-stage filtering system, although seemingly standard, is just nothing short of outstanding. In prevention of any fungal disease that might befall your betta fish, clean tank water is paramount, and this filter does that job superbly.
It also has a great lighting setup, which is such a crucial component in raising bettas, which will certainly appreciate options for daylight and moonlight ambiance. As outstanding as it is, Hagen HG Fluval Flex Aquarium comes with a rather hefty price tag. For those who are just now stepping into this beautiful world of betta rearing, it might not be ideal spending hundred dollars for an aquarium starter kit. Regardless, I choose Fluval Edge Aquarium with LED Light as the ultimate combination of features, quality and price.
I hope this list of best betta tanks will provide you with with enough information for a head start, if you are beginner in the 2022. On the other hand, if you are a veteran, you are welcome to consider this list, you may still find gem of a tank.