Fish tanks are a great addition to any home. They're truly beautiful and a real sight for sore eyes. Whenever you're feeling weary or stressed, sitting in front of a fish tank will help lift your mood and spirits.
If you've never owned a fish tank before, it's best to find one that is suitable for beginners. While they come in various shapes, sizes, and materials, it's best to choose between nano tanks and mid-sized tanks, especially if you're still a beginner.
A 30-gallon fish tank is perfect for those who want a mid-sized tank because it won't take up a lot of space but it will still be big enough to store a lot of beautiful fish.
There are multiple brand manufacturers that make and sell 30-gallon fish tanks. When deciding which one to go for, you need to pay attention to the material the tank is made from. Each material has its pros and cons as well as strengths and weaknesses.
To help you make an informed decision, let's go through the best 30-gallon fish tanks.
30-gallon fish tank dimensions
The dimensions of a 30-gallon fish tank are typically about 36" L x 16" H x 16" W.
As we already mentioned, a 30-gallon fish tank is a mid-size aquarium. The empty weight of this type of aquarium is approximately 40 lbs, while the weight of a filled aquarium is about 330 lbs.
30-gallon fish tank buying guide
There are multiple criteria you need to take into account when choosing a 30-gallon fish tank:
Placement

. Before you buy your aquarium, think about the exact location where you want to place it and make sure there is enough room for it. Take the dimensions and weight into account.

Lighting

. Some aquariums will come with LED lightning. But if they don't, make sure to purchase LED lighting separately so you can grow live plants in the fish tank. A good light fixture is a necessity.

Material

. Fish tanks can be glass, plastic, or acrylic, but we'll talk more about the difference later on.

Ecosystem

. When it comes to the ecosystem, you will be able to choose between freshwater and saltwater tanks. They come in many subcategories such as coldwater freshwater tank, coldwater marine tank, tropical aquarium, reef tank, and brackish tank.
Types of fish tanks
Now that we're done with the basic buying guide for a 30-gallon fish tank, let's explain the differences between the types of fish tanks.
Ecosystem
As we already mentioned, the ecosystem in your aquarium can be either freshwater or saltwater.
Freshwater tanks are usually less demanding and easier to maintain, easily transportable, and usually much less expensive than saltwater tanks.
If you're someone who wants to reinvent the environment of their aquarium on a regular basis, this is centrally a great choice. It's recommended for novices to start off with a freshwater aquarium since it's easy to handle and doesn't require too much work.
Saltwater fish tanks, on the other hand, are usually better suited for experienced fish owners as it's hard to provide adequate TLC to fish that are living in a saltwater tank.
However, saltwater tanks provide more room for variety and a habitat that is easily adaptable to multiple fish species. This type of environment provides limitless possibilities and is worth the money for those who are after variety.
Material
There are three types of material fish tanks come in: glass, plastic, and acrylic.
Glass is the material that is most frequently used for fish tanks, and a glass tank will always be beautiful and classic. However, glass fish tanks are heavy and have a delicate nature so they're not suitable for households where they can be knocked over and broken by little kids or pets.
Plastic aquariums are a better choice for households where accidents are more likely to happen, but keep in mind that it's easy to scratch a plastic aquarium. And while some people believe it's hard to maintain a healthy aquatic habitat in a plastic aquarium, this is just a misconception.
Acrylic fish tanks are great because they are sturdy and more lightweight than glass aquariums and can be placed on any type of stand. They're very appealing because they come in various shapes, not just the typical cube shape.
Shape
Finally, let's talk about the different shapes aquariums come in: cube, curved front, and round.
Cube aquariums are the most popular and most common fish tanks. They're easy to place in any room and they will fit in effortlessly. They have a very polished design, so it's easy to combine them with any type of interior décor.
Curved front fish tanks are more modern and are often seen as a stylish piece that is wanted by a specific audience. They're very attention-drawing and easy to maintain, so they're the perfect combination of style and convenience.
Round tanks have no clear advantage or disadvantage, but they're usually small and it would be hard to find a 30-gallon fish tank in that shape. This is because round tanks are slippery and hard to handle when they're larger tanks. Round tanks are typically small and hold only one fish.
How we picked the best 30-gallon fish tank
Our team was very detailed when composing this list and took every possibility into consideration so you can make an informed decision. All of the products we listed here meet the necessary criteria for a great and easy-to-manage 30-gallon fish tank.
All of the tanks on our list were made to last and will provide your fish with a great environment. Also, the companies that made them are well-known for creating great and durable tanks that will last you for years to come.
Best overall: Seaclear Acrylic Aquarium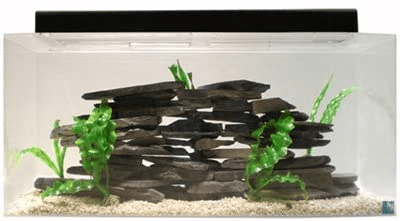 SeaClear is a well-known fish tank manufacturer and they offer tanks in various sizes and capacities, including 30 gallons.
The exterior of this tank is made out of acrylic material, which means it is more transparent than a glass aquarium, 17 times stronger, and more impact-resistant.
As we already mentioned, acrylic tanks are much more lightweight making the shipping costs smaller and giving you an easy-to-handle aquarium. And as an added bonus, acrylic aquariums are stain-resistant so they will always stay beautiful.
The SeaClear Acrylic Aquarium combo package comes with a reflector and 24" light fixtures. They are great for illuminating the tank's interior.
Each tank produced by SeaClear has a three-stage filtration mechanism built in which keeps the tank water oxygenated and hygienic for a long time. It also ensures that all excess food particles, as well as harsh chemicals, are converted to harmless compounds by undergoing nitrogen cycles.
This means you won't have to worry about infestations such as worms, snails, and algae. You can rest assured knowing your fish are always safe in your acrylic aquarium.
You can use this acrylic tank to create a saltwater or a freshwater setup so no matter what kind of organisms you want to keep, fish keeping in this aquarium will be a breeze.
Pros and cons
Pros:
It's an acrylic tank so it's more durable, stain-resistant, and more lightweight than a glass aquarium.
A reflector and 24" light fixtures for optimal lighting.
A three-stage filtration mechanism that will keep your aquarium clean and your fish healthy.
Can be used to create an environment for both saltwater and freshwater fish.
Cons:
Acrylic tanks can be scratched quickly and easily. Those scratches can be polished but the tank will require more maintenance.
You will need a stand to support the aquarium from below as the bottom of acrylic tanks can sag.
Best LED tank: Jajale Aquarium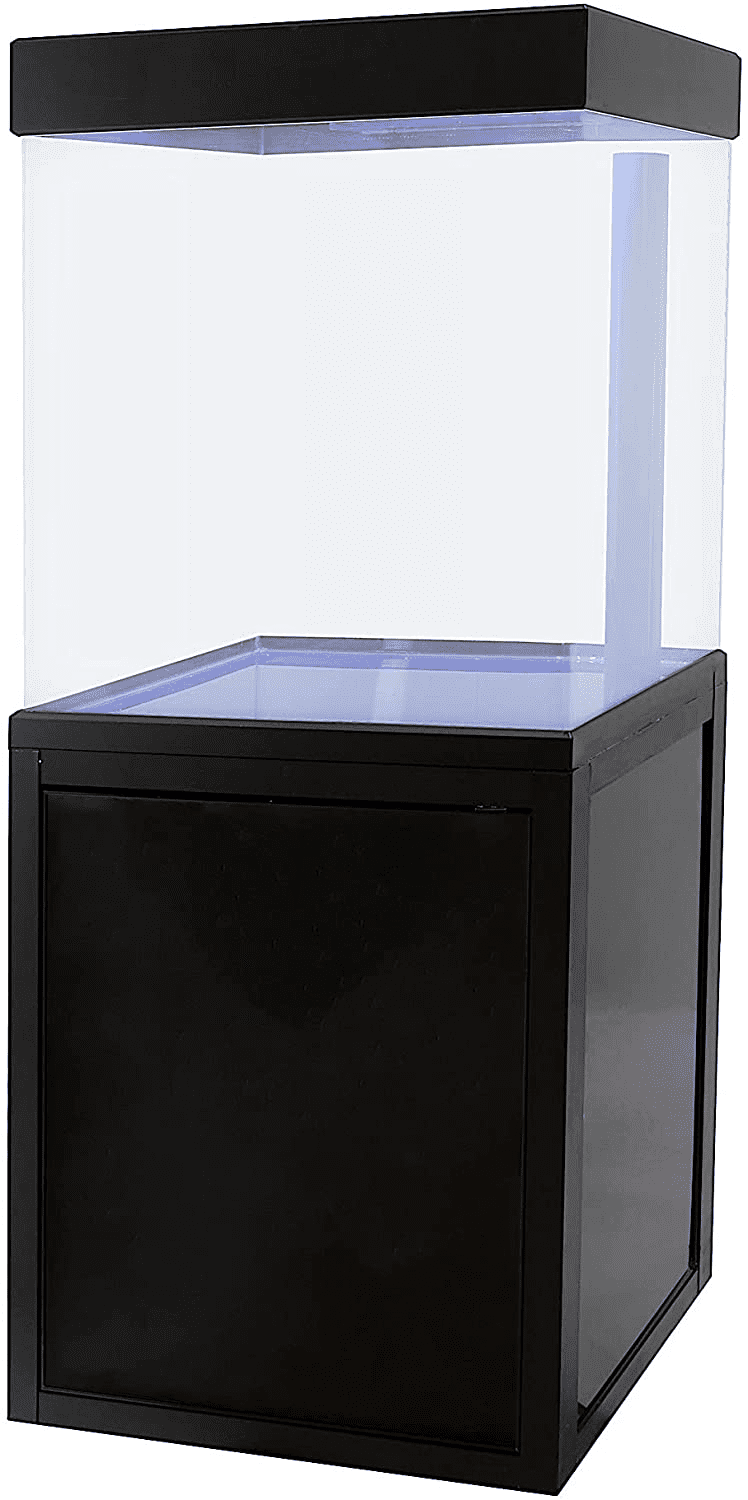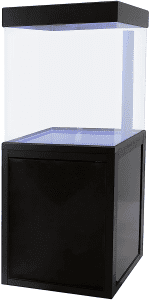 If you're looking for a great luxury 30-gallon fish tank that has an amazing lightning system that will draw anyone's attention, this Jajale Aquarium is a perfect choice.
The product comes with a 110-120V water pump, a cabinet, as well as a filtration system with filter media.
The aquarium itself is made out of high-quality, low-iron tempered, ultra-white, transparent glass that is also known as crystal glass. It provides you with a great immersive experience.
This material is very durable and can withstand a lot of damage that may happen in everyday life. It's resistant to fingerprints and alkali/acids. And best of all, it's scratch-resistant.
This glass aquarium is approximately 0.3 inches thick and the visible light transmittance of the aquarium is over 90%. The light source consists of professional aquatic LED tri-color lights. It can breed corals, aquatic plants, marine life, Arowanas, and landscape water features.
The frame comes in black. Not only is it fashionable but it's also resistant to saltwater erosion as it's made out of metal and will never fade or deform. The dimensions of the frame are 23.6 (L) x 14 (W) x 25.6 (H) inches.
Pros and cons
Pros:
A 1-year warranty for all provided electrical units as well as a 3-year overall warranty.
Service for spare parts for life.
An amazing elegant design and amazing visible light transmittance.
A saltwater-erosion-resistant frame.
Cons:
It might not be the best choice for beginners as it's recommended for people who already have experience with owning and maintaining aquariums.
It comes with a stand that was specially designed for the aquarium. While this isn't a con by itself, it will be hard or even impossible to find a replacement if you don't like the stand.
Best glass: Fluval Accent Glass Aquarium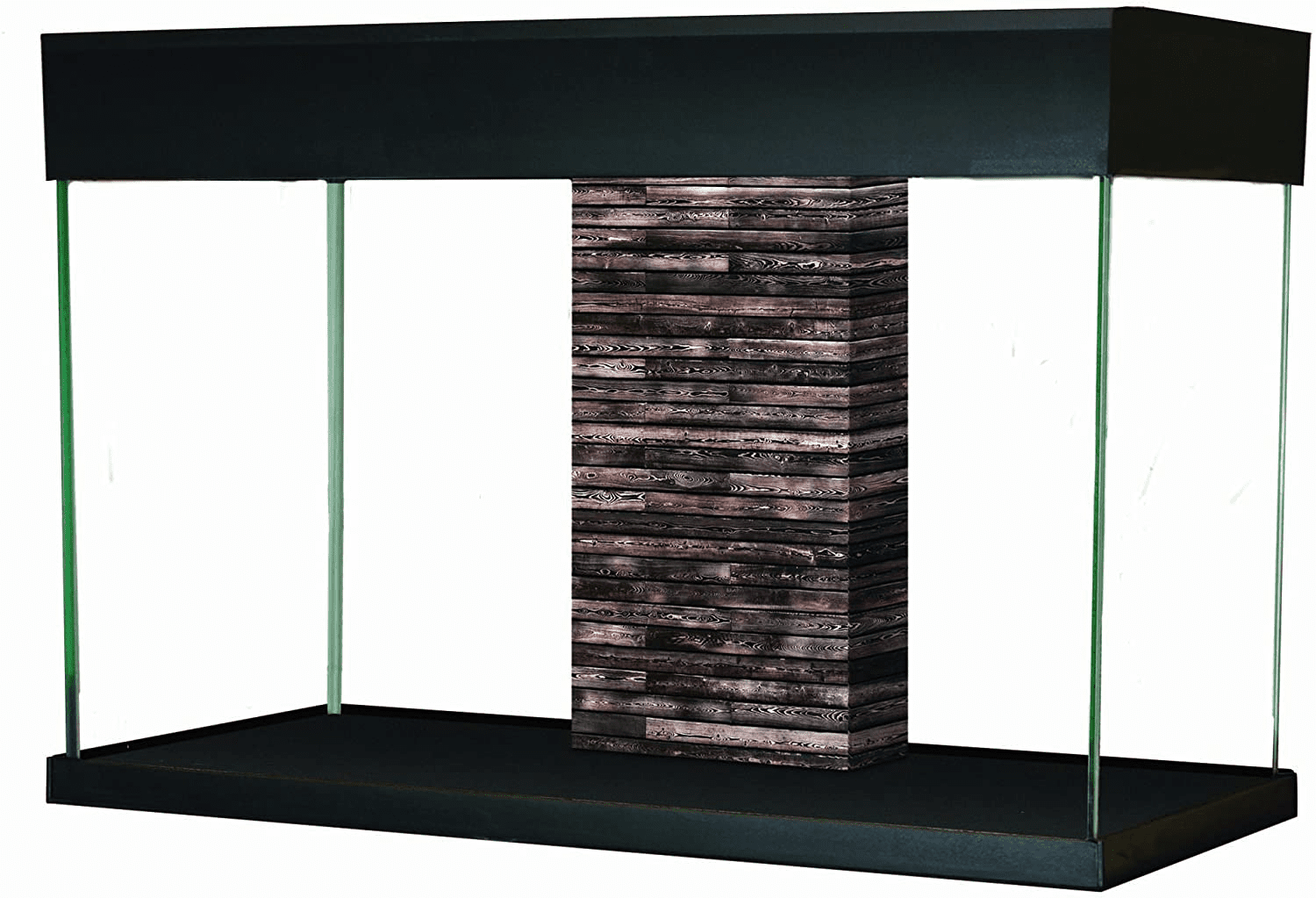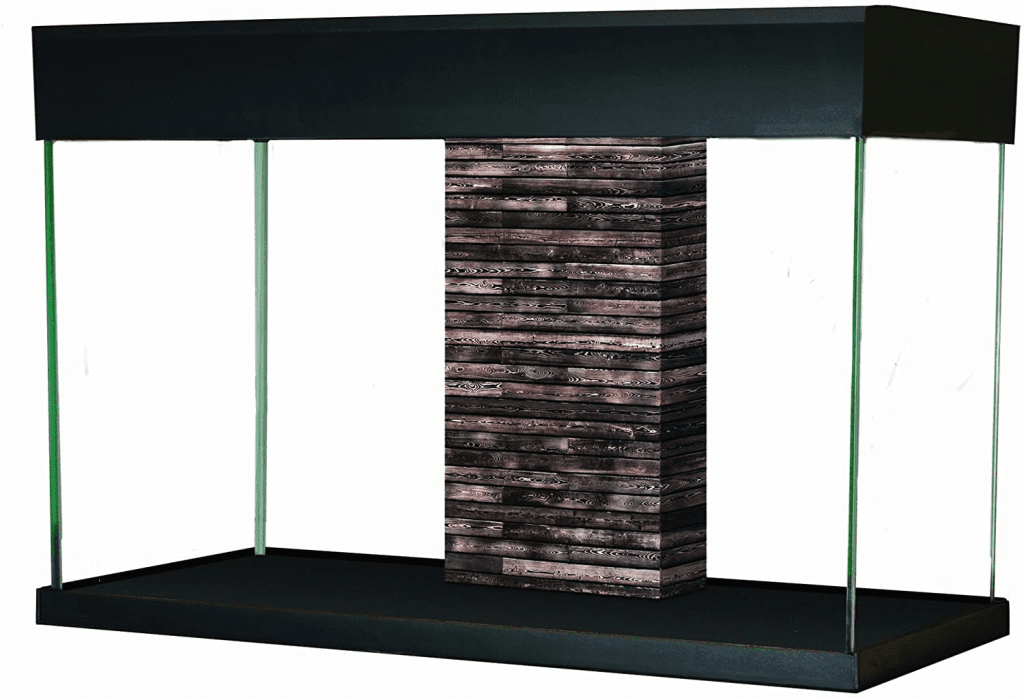 Fluval is another well-known aquarium brand. They're known for making beautiful-looking aquariums, and this one certainly isn't an exception. If you're after something that has a design you will admire, you can't go wrong with this fish tank.
It's a smaller tank than most others on this list as its dimensions are only 8 x 20 x 27 inches so you can be sure it won't take up too much space. Also, it only weighs 5 lbs, so it will be easy to move.
The tank's core has a unique brick-like structure; the bezels, bottom, and lid are all beautiful. There's no denying the fish tank's elegant design is eye-catching. It also has an energy-efficient LED lighting system with modes for both daytime and nighttime that only adds to its beauty.
But its beauty is not this aquarium's only benefit, as it's also high-quality and very durable. One of its biggest benefits is its one-touch filter and water maintenance system. If you don't want to deal with the chores that come with owning an aquarium, you will love this filtration system.
Additionally, this aquarium comes with a 95-liter water collection bucket that is easy to use.
Pros and cons
Pros:
Comes with the amazing SIMPLETEC Maintenance System that will take away the hassle of aquarium maintenance.
The design is sleek and elegant and will easily make this aquarium your next centerpiece.
The integrated LED lighting is energy-efficient and has a daytime and nighttime mode.
Small dimensions and lightweight make it ideal for small spaces.
Cons:
The flow output is loud, so this aquarium is much noisier than the others on our list.
The sleek design is beautiful but it also sometimes comes in the way of practicality.
Best acrylic: R&J Enterprises 29 Gallon Fusion Acrylic Aquarium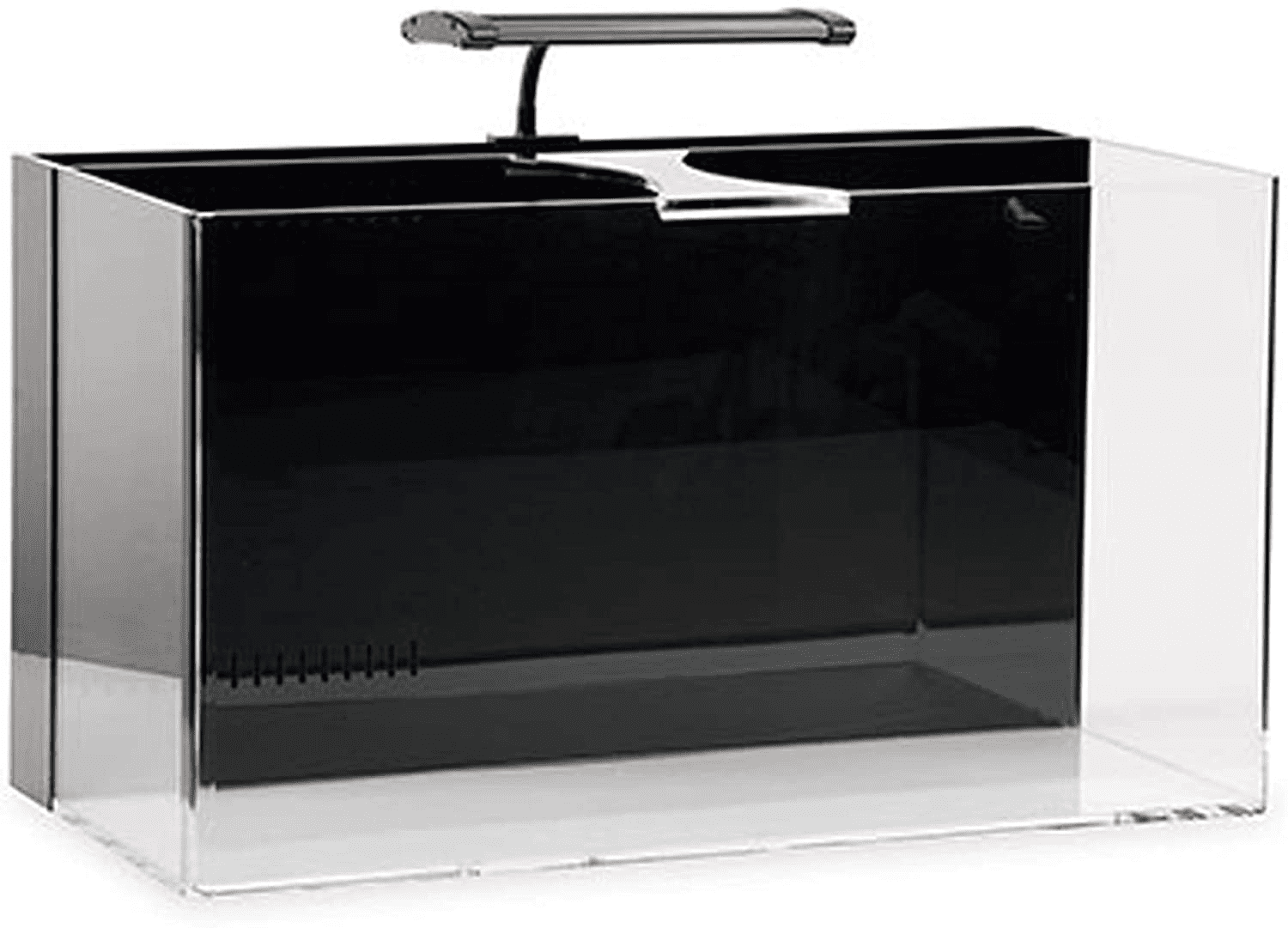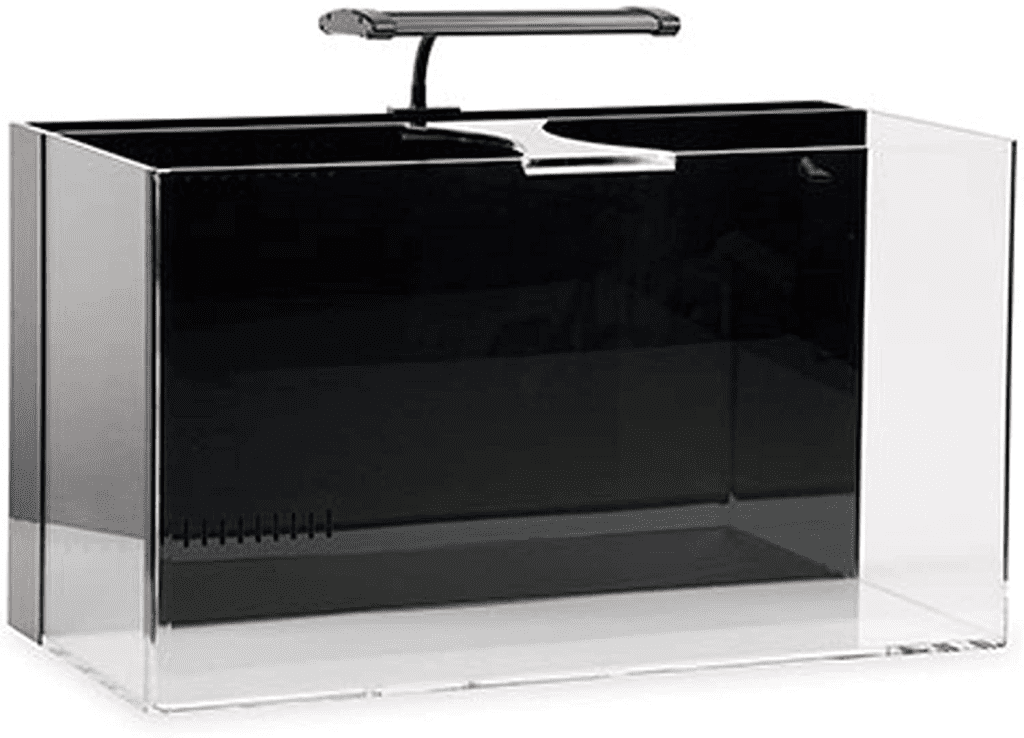 This beautiful aquarium is made out of high-quality acrylic and is perfect for both saltwater and freshwater fish. This is an all-in-one aquarium that comes at a great price, especially for the value it offers.
Its dimensions are 5 x 14.20 x 16 inches and it weighs 39 lbs. It won't be hard to find a place for it, no matter how big your home is.
Not only does it look great and is well-built, but it also has a very easy filtration process. It comes with a 360 gallons per hour pump, a filter sponge, and bio bombs. The back area of this aquarium is very spacious to make room for the filtration system.
Additionally, this aquarium comes with a compartment on the back that is meant for housing a heater so you can be sure that your fish are always swimming in ideal temperature water.
And of course, no high-quality aquarium would be complete without great LED lighting that will make your pet fish pop. That is why this aquarium comes with a great LED light system that will ensure your aquatic pets are properly displayed.
Pros and cons
Pros:
The tank is well-built and isn't one of those larger tanks you won't find room for.
It comes with a special compartment that is meant for housing a heater.
It can be used to create saltwater or a freshwater environment.
The price is great for an acrylic fish tank.
An amazing LED lighting system.
Cons:
It doesn't come with a top lid which might cause problems during water cleaning.
Even though it has a department for a heater, you will need to buy a heater separately. However, that is currently the standard for most kits anyway.
Best budget: Skroutz Aquarium Starter Kit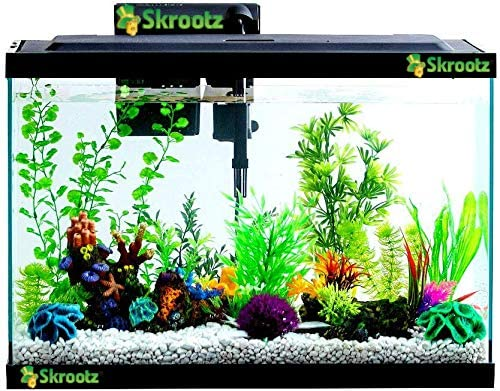 For beginners who want an aquarium that will help them get started without breaking the bank, the Skroutz Aquarium Starter Kit is a great choice. This aquarium kit is exactly what you need to create a natural living space out of your fish tank.
This isn't exactly a small tank, the dimensions are 30 ¼ x 19 x 12 ½ inches and the weight is 30 lbs, but it's perfect for large spaces. And if you really want to make this fish tank the center of attention, make sure to place it on a tall aquarium stand.
The main unit has an inward channel that offers amazing filtration that is so quiet that you practically won't even hear it.
This 30-gallon aquarium comes with proficient LED lighting including 7 sections of lighting strips all of which contain 3 white LEDs that were designed to resemble daylight. However, this lighting system might not be adequate enough to illuminate all of the fish in your tank so you might need to purchase additional lighting.
And as an added bonus, with this kit, you will receive a Skroutz unique eBook as well as Tetra Food and Water Care samples. It's basically one of the best beginner aquarium kits.
Pros and cons
Pros:
This aquarium is designed for beginners and it's perfect for someone who is still learning what it takes to keep fish as pets.
Everything you get in the package is excellent value for the money you pay.
The inward channel this tank incorporates keeps the sound at a minimum and the water in the tank perfectly clear.
Cons:
The LED system isn't perfect and you might need to purchase additional LED lights to have a proper light fixture setup.
If you're an experienced fish keeper, this tank won't offer anything special to you.
Best design: Aqua Culture 29 Gallon Aquarium Starter Kit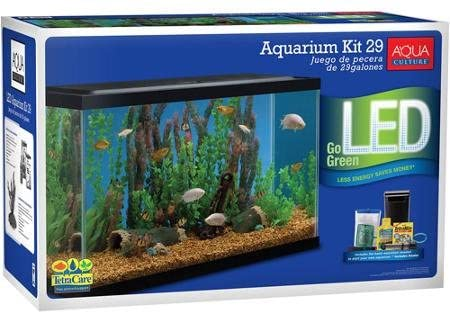 While all of the fish tanks on our list are beautifully designed, this one stands above the rest. If you're looking for a stunning aquarium that is also beginner-friendly, the Aqua Culture starter kit is just what you need.
It has a compact and stylish look that is achieved by its low-profile hinged canopy and its low-profile hood that bring a natural light shimmer to this fish tank.
Even the energy-efficient LED lighting contributes to this tank's beauty. The lights themselves are designed to be placed under the hood, the strips are connected with a power cord, and when the lights are turned on, they provide white light that simulates daylight. There is also a convenient on/off switch for the lights.
The filtering system for this tank is gentle yet powerful at the same time and it will keep the water healthy and clean for your fish.
This aquarium kit is ideal for beginners because it has everything an aquarium needs such as a LED light, a 100-watt preset heater, a strip thermometer, as well as a water care and fish tank setup guide. It even comes with fish food and a fish net.
Pros and cons
Pros:
An amazing design that will amaze you.
Great LED lighting setup that is attached to the hood, creates a natural daylight effect and comes with a convenient on/off switch.
Integrated clouts that allow for simple cartridge changes and easy feeding.
A low-profile hood that makes the tank compact.
Perfect for beginners and comes with all the necessary accessories novice fish keepers might need.
It doesn't require you to buy anything separately unless you want to upgrade your fish tank.
Cons:
The filter is a bit noisy which some people might find irritating.
Best saltwater: Coralife Biocube 32 Gallon Kit
If you're interested in saltwater aquariums but you have never owned one before, the Coralife LED Biocube aquarium is a great aquarium kit to start with.
It was designed to offer enough space for keeping a good amount of fish, but not too much that it becomes hard to manage and overwhelming. The design of this glass tank is very modern and imaginative, it has a cube shape with round corners.
The color-enhancing LED lighting system in this Biocube aquarium is integrated with a 24-hour timer that manages the three different independent light channels. There are 30- and 60-minute capabilities that mimic the natural day and night cycle of your pet fish.
Equipped with 3-stage filtration, a heater, a silent filter, and an air aquarium pump, it's obvious this aquarium was made for people who want a high-quality saltwater tank.
It's ideal for beginners who are trying to learn the basics of owning a saltwater tank, but it will also impress people who have had a saltwater setup for years. It has all of the essentials while also being a very stylish tank
Pros and cons
Pros:
One of the best saltwater aquariums currently on the market.
A very favorable price.
Easy to operate and well-built.
A modern design that is very eye-catching.
Color-enhancing LED lights with a 24-hour timer and 30 and 60-minute capabilities.
Ideal for both beginner and expert saltwater aquarium owners.
Complete temperature control the aquarium owner can adjust with ease.
Cons:
You might need to purchase additional upgrades for added functionality. The company sells multiple upgrades for this tank including a stand, additional LED lights, a protein skimmer, and a pump upgrade.
So, what's the best 30-gallon fish tank?
It takes a lot of work and research to find the best 30-gallon fish tank as there are multiple aspects you need to consider. Not only do you have to find one that's high-quality, but you also have to pick one that fits your needs and your budget.
Our choice is obvious. Seaclear Acrylic Aquarium is the best overall fish tank, but if you want something else, you can also consider other factors such as budget, design, lighting, and so on.
You need to decide what kind of material and shape you want for your fish tank and whether you want to keep freshwater or saltwater fish. All of the fish tanks we talked about here are a great choice, but only you know what is best for you.
How to set up a 30-gallon fish tank
The first thing you need to do is clean your 30-gallon fish tank thoroughly because you can never be sure whether the surface is carrying any worm eggs or algae.
The next thing on your agenda needs to be finding the perfect place to position the fish tank. Ideally, you should have a dedicated spot picked up before the aquarium arrives, somewhere where it will be on full display.
Then it's time to add the gravel, water, and filter, and make sure everything is functioning as it should be. If you're transferring any decorations from an old aquarium, make sure they're properly washed.
After you place all of your decorations, make sure to run a complete nitrogen cycle. You can do this with or without your fish in the tank.
And finally, make sure you have all the necessities:
A canopy
Enough fish food
A fish net
A LED light
Approximately 32 pounds of some type of substrate. You can use gravel, sand, or aqua soil if you have a planted tank.
A 100-watt aquarium heater
What equipment do you need for your tank?
If you want your tank to be a great environment for your fish, you will need to add some additional equipment. But out of all the equipment that's available for fish keeping, three things are an absolute must: a heater, a filter, and lighting.
Heaters are necessary for any large fish tank, especially if you want to have an aquarium where you can keep fish that prefer warmer temperatures like cichlids or betta fish. If the tank you buy doesn't come with a heater, you can purchase one separately.
The Cascade Heat 10″ Aquarium Heater is a great choice for 30-gallon fish tanks. It's long-lasting, dependable, and doesn't take too much space.
The next thing you will need is a good filtration unit. Filters are usually included with every fish tank, but if you choose a tank without a filter, you will need to purchase one. A good choice is the Fluval U2 Underwater Filter. It has three filtration levels and comes with biological filtration.
And finally, you need a great LED lighting system. If your 30-gallon tank doesn't come with one, we recommend the AI Prime 16HD.
What fish should I put in my 30-gallon tank?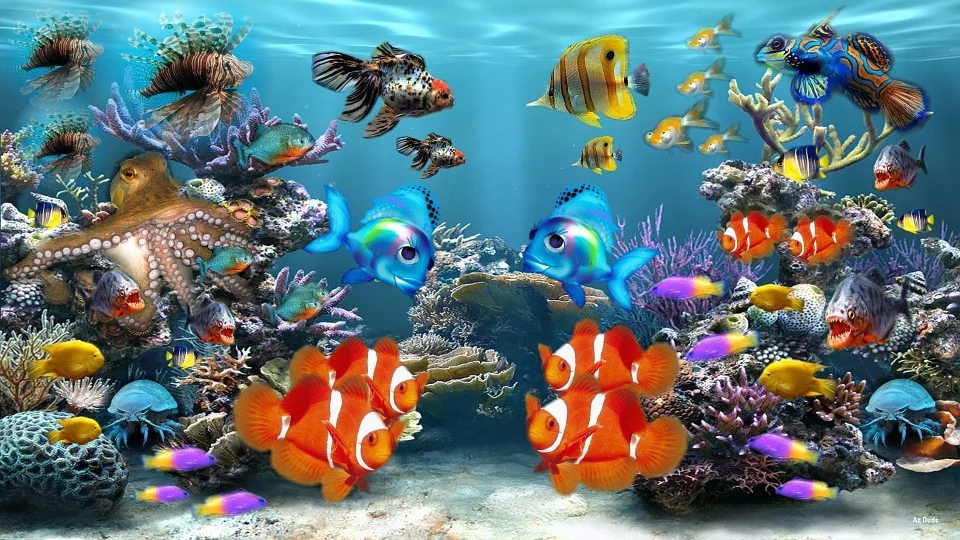 Image source: Pixabay
The species of fish you will put in your 30-gallon tank depend on whether you want to keep freshwater or saltwater fish and if you want your fish to be aggressive or community.
If you go for aggressive ones, keep in mind that your fish will need more space for themselves, unlike community fish which should be kept in pairs or schools.
Aggressive freshwater fish
Tiger barbs (Puntius tetrazona)
African Butterfly Fish (Pantodon buchholzi)
Cichlids – convict cichlids, angelfish, and firemouth cichlids
Puffers – dwarf puffers, figure 8 puffers, and red-eye puffers
Freshwater community fish
Zebra danios (Danio rerio)
Cherry barbs (Puntius titteya)
Platies (Xiphophorus genus)
Rasboras – galaxy rasboras, chili rasboras, and harlequin rasboras
Tetras – rummy nose tetras, ember tetras, and black skirt tetras
Catfish species – bronze cories, panda cories, and pygmy cories
Aggressive saltwater fish
Eel – dwarf morays (Gymnothorax melatremus)
Puffers – mimic saddle puffers, and saddle valentini puffers
Damsels – three stripe damsels, three spot domino damsels, and blue damsels
Saltwater community fish
Gobies/blennies – neon gobies, yellow watchman gobies, algae blennies, and bicolor blennies
Clownfish – snowflake clowns, ocellaris clowns, and percula clowns
Cardinals – pajama cardinals and Banggai cardinals
Firefish (Nemateleotris genus)
How many fish can I put in a 30-gallon tank?
The number of fish you can put in your 30-gallon fish tank will depend on the species you choose to keep. While it's not exactly a small tank, you won't be able to go too overboard.
Freshwater aggressive fish require a lot of space and shouldn't be kept in large numbers. A 30-gallon fish tank is only big enough for one or two freshwater aggressive species. If you want to keep more, you should look into bigger tanks.
If you choose to have a community freshwater tank, you'll be able to keep a variety of species. However, keep in mind that most freshwater community species have to be kept in schools so you might not have a lot of room for biodiversity. But if you like small schooling fish, you won't have any issues.
Saltwater aggressive fish need even more space than freshwater aggressive fish and it's hard to find a species you can keep comfortably in a 30-gallon fish tank. But the ones we mentioned above can work. And once again, keep only one or two per tank.
Finally, with community saltwater fish, you will be able to keep five or six in your 30-gallon fish tank.
Final thoughts
If you're someone who hasn't owned fish before or you just want a decently sized aquarium that won't take too much room, you can't go wrong with a 30-gallon fish tank.
Before you buy your dream aquarium, you need to take all of the things you read about here into consideration. Think about the size and weight you want, what material you want your fish tank to be made out of, the ecosystem you'd like, and whether you're a bigger fan of fish that is freshwater or saltwater.
All of the 30-gallon fish tanks we listed in this article are great in their own way. All that's left is for you to make the right choice. And don't forget the fish food!!

Hello, I'm Paul, a dedicated fish enthusiast with 15 years of experience. My family finds my hobby peculiar, but they humor me! Besides fish keeping, I enjoy playing the bass guitar and learning about wildlife adaptation.
I find fish captivating; observing their behaviors and routines in an environment so different from ours is enthralling. I started with a small aquarium and guppies, later progressing to African cichlids, which drove me to take fish keeping more seriously. Creating an artificial ecosystem that supports life brings me immense joy.
The goal of 4aquarium.com is to become a one-stop shop for all aquatic needs, cutting through the clutter of irrelevant information. I invite you to visit often, and I welcome any questions or comments via the contact form on fishkeepingcentral.com/contact-us/. Thank you for reading my story!